The ERE 225a is a reliable and versatile Automated Guided Vehicle (AGV) designed for repetitive transport tasks increasing efficiency in transport processes.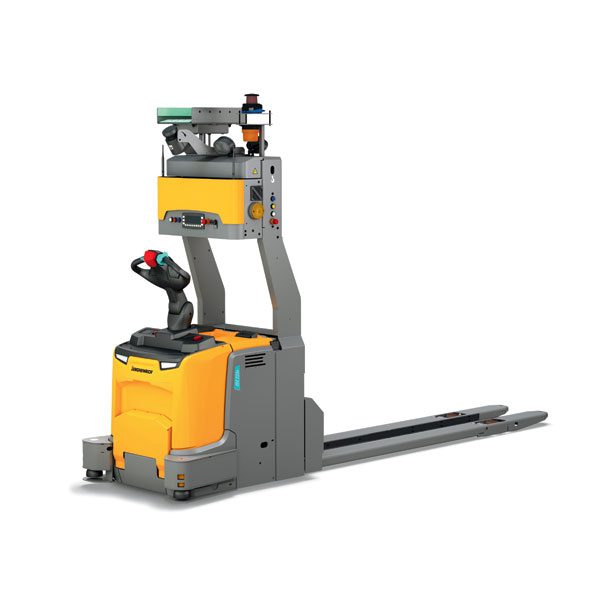 RELIABILITY & EFFICIENCY
Designed with comprehensive safety technology as well as automation and navigation components, the ERE 225a provides continuously high performance and maximum process reliability.
REQUEST MORE INFO
FLEXIBILITY
The ERE 225a can be easily integrated into existing IT structures or used as a standalone system and can also be used in existing factory structures or new builds.
REQUEST MORE INFO
NAVIGATION
The ERE 225a is an automated pallet truck that navigates by means of laser navigation for precise pallet handling and optimized transport routes.
REQUEST MORE INFO
PROVEN EXPERTISE
With more than 65 years of electric lift truck design, and 50+ years of automation experience, Jungheinrich's efficient and reliable warehouse products have been stacking and transporting in warehouses around the world. The award-winning Logistics Interface facilitates a smooth connection to any host system, such as your preferred WMS or ERP platform.
REQUEST MORE INFO
| Model | Basic Capacity (lbs) | Maximum Fork Height ² | Voltage (or Fuel Type) | Length To Fork Face | Chassis Width (in) | Chassis Height (in) ¹ | Gross Weight (lbs) ¹ |
| --- | --- | --- | --- | --- | --- | --- | --- |
| ERE225a | 5,500 | 8.5 | 24 | 47.9 | 38.0 | 89.8 | 2734 |