The EKS 215a is an automated guided vehicle (AGV) based on our vertical order pickers that combines tried-and-tested mechanical engineering with innovative automation, including accurate navigation technology.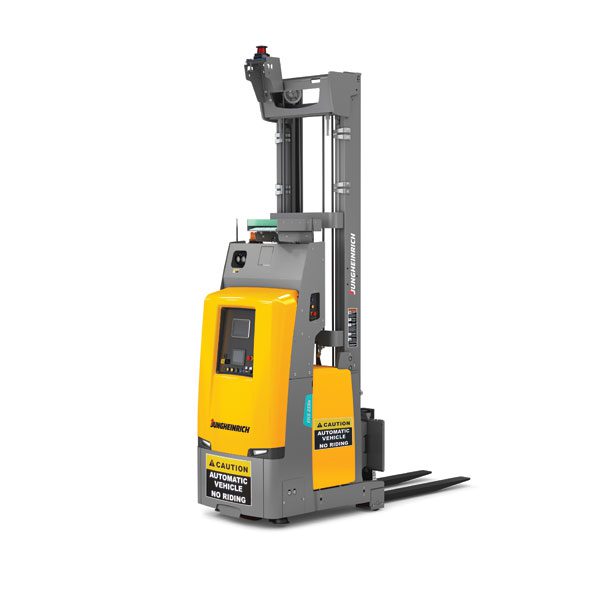 RELIABILITY & EFFICIENCY
Improve your operational processes with the EKS 215a NA. The automated handling of standardized transport processes allows for the reallocation of resources on other tasks.
REQUEST MORE INFO
FLEXIBILITY
The EKS 215a NA can also be used in mixed operations mode with manual trucks and pedestrians. Our award winning Jungheinrich Logistics Interface facilitates a smooth connection to your host system. This allows for easy integration into your existing IT and software.
REQUEST MORE INFO
NAVIGATION
The EKS 215a is an automated pallet stacker that uses laser navigation so no floor work is required. Our comprehensive vehicle safety system provides a high level of safety that includes enhanced sensors.
REQUEST MORE INFO
ENERGY EFFICIENCY
Industry-leading run times – 16 hours on one battery charge in most applications – allow these high-level order picker forklifts to work longer without stopping to recharge for greater efficiency.3-phase AC technology delivers strong acceleration and high lifting and lowering speeds for greater productivity.
REQUEST MORE INFO
PROVEN EXPERTISE
With more than 60 years of electric lift truck design, plus 10 years of automation experience, Jungheinrich's efficient and reliable warehouse products have been stacking and transporting in warehouses around the world. The award-winning Logistics Interface facilitates a smooth connection to any host system, such as your preferred WMS or ERP platform.
REQUEST MORE INFO
| Model | Basic Capacity (lbs) | Maximum Fork Height ² | Voltage (or Fuel Type) | Length To Fork Face | Chassis Width (in) | Chassis Height (in) ¹ | Gross Weight (lbs) ¹ |
| --- | --- | --- | --- | --- | --- | --- | --- |
| EKS 215a | 3,300 | 236 | 48 | 55.3 | 38.8 | 102 | 6,923 |
There are a multitude of different factors to consider when purchasing equipment for a specific application. Our professional sales team can make the process a lot easier. 
Ensure you get the most from your investment – contact us today.