The EZS 350a NA is an Automated Guided Vehicle and is based on our standard series truck and combines proven mechanical engineering with precision navigation technology.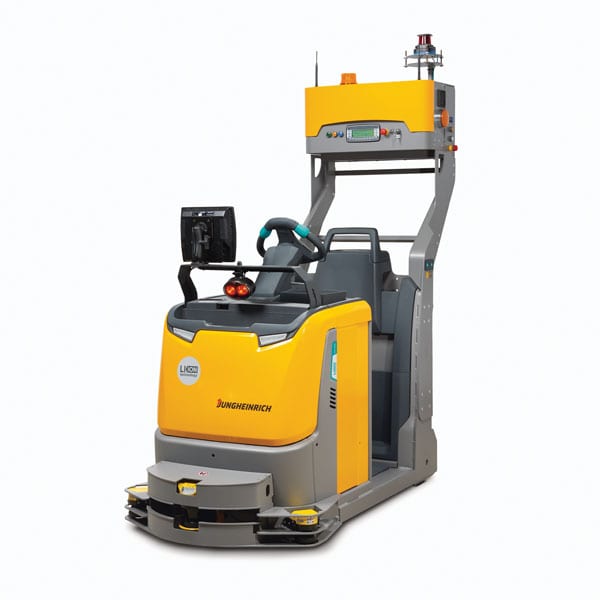 RELIABILITY & EFFICIENCY
Whether you are looking to integrate automation solutions into your existing warehouse or new building, the EZS 350a NA is the perfect choice to enhance the efficiency of your logistics process.Using an AGV towing vehicle to manage the automated handling of standardized transport processes relieves strain on your employees by minimizing time on routine transportation and freeing them up for more valuable activities.
REQUEST MORE INFO
PRODUCTIVITY
The order picker's multifunction control handle incorporates a solid base for a secure grip, providing precise control of travel and lifting functions.Designed to automatically lock the pallet for a secure grip, the Automatic Pallet Grip feature provides optimum control of the load.High lifting and performance speeds offer maximum productivity –moving up to 7.5 miles per hour in drive direction and up to 76 feet per minute when lifting.
REQUEST MORE INFO
FLEXIBILITY
The EZS 350a NA is an AGV towing vehicle that excels in both mixed operations mode with other manual lift trucks and pedestrians.Recognized in 2015 by LogiMAT; Jungeinrich's award winning Logistics Interface facilitates a smooth connection to your host system. This allows for easy integration into your existing processes, while allowing the automated guided vehicles to operate as an autonomous system without a host connection.The modular system structure makes it possible to represent individual customer processes as well as reacting flexibly and quickly to process changes. This creates a solid basis for the use of Jungheinrich's AGV system according to your specific needs.
REQUEST MORE INFO
PRECISE NAVIGATION TECHNOLOGY
The EZS 350a NA automated tow tractor can operate around-the-clock to increase the throughput of each warehouse.Features precise navigation technology, the automated tow tractor provides consistent transport of materials for greater productivity. Relying on advanced laser navigation, the Jungheinrich AGV requires no floor work.
REQUEST MORE INFO
PROVEN EXPERTISE
With more than 60 years of electric lift truck design, plus 10 years of automation experience, Jungheinrich's efficient and reliable warehouse products have been stacking and transporting in warehouses around the world. The award-winning Logistics Interface facilitates a smooth connection to any host system, such as your preferred WMS or ERP platform.
REQUEST MORE INFO
| Model | Basic Capacity (lbs) | Maximum Fork Height ² | Voltage (or Fuel Type) | Length To Fork Face | Chassis Width (in) | Chassis Height (in) ¹ | Gross Weight (lbs) ¹ |
| --- | --- | --- | --- | --- | --- | --- | --- |
| EZS 350a | 11,000 | N/A | 24 | 77.2 | 38.6 | 89.5 | 2,939 |
There are a multitude of different factors to consider when purchasing equipment for a specific application. Our professional sales team can make the process a lot easier. 
Ensure you get the most from your investment – contact us today.