Choosing The
Right Forklift
Just like in all facets of technology, it's hard to keep up with advancements, and forklift technology is no different. Their capabilities are expanding at a pace that even veteran material handling professionals marvel at.
This means there are more possibilities to consider than ever before, which also means a forklift buyer's job has become increasingly more complicated. For a brief rundown, including highlights on new technology, read on . . .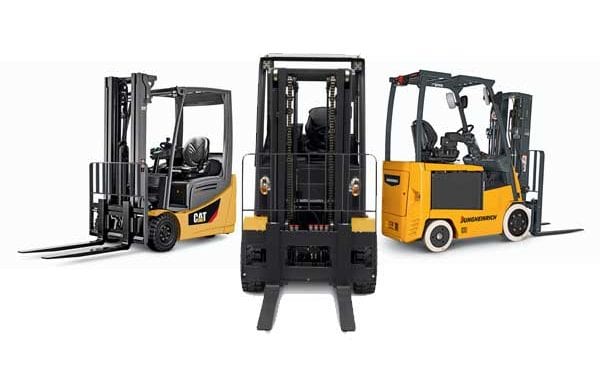 Electric forklifts are the fastest growing group of forklifts (80%) used in the marketplace, literally swapping percentages with internal combustion forklifts over the last two decades.
With emission regulations increasing and a general desire to go green, companies are reaping the benefits of electric forklifts, which are far greater than just zero emissions. Electrics create minimal noise compared to internal combustion trucks, are safer and cleaner, require less maintenance, reduce fuel costs, and new lithium-ion battery technology allows companies to run multiple shifts on one charge.
COUNTERBALANCE ELECTRICS​
This group of electric forklifts are built primarily for sit-down operators with batteries that function as counterweights. The most popular are 3-wheel models with tighter aisle functionality, but their 4-wheel counterparts are also big sellers.
Historically available in cushion tires to be used only indoors, sit-down electrics have graduated to the outdoors. Pneumatic tire models are now available with fully enclosed AC motors designed to be used outdoors while outperforming internal combustion equivalents.
Offered in a full range of capacities from 2,000 lbs. all the way up to 11,000 lbs., soon to be 20,000 lbs.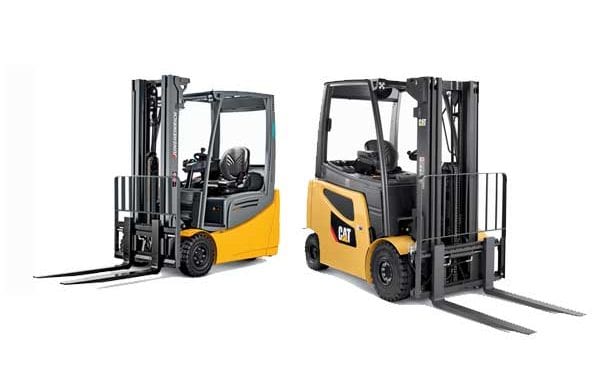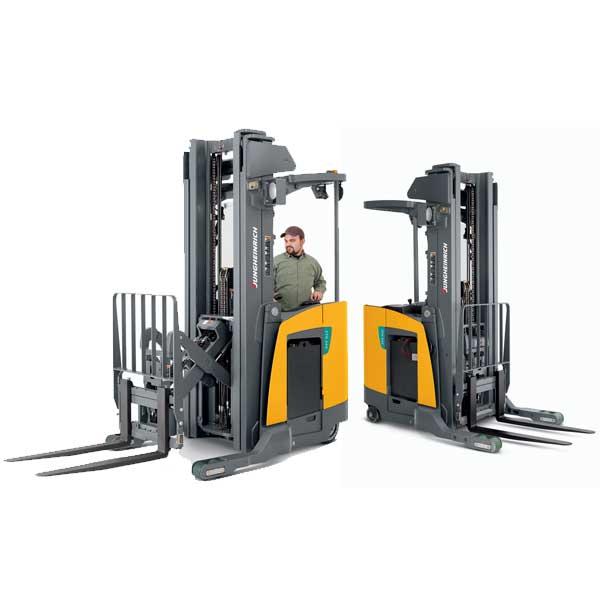 With their compact construction, reach trucks are built to be used in applications where narrow aisles, reaching extreme heights and towering mezzanines are essential. At the same time, reach trucks offer very high acceleration as well as impressive lift and reach speeds, which in turn ensures excellent throughput performance.
When picking up loads, the reach truck moves its mast forward until the forks are positioned in front of the truck. This is known as "forward reach." The goods are then "pulled back" between the front and rear axles for subsequent transport. This operating principle reduces the overall length of the truck, making it extremely agile.
Reach trucks are available in a single and a deep reach design using a scissor reach mechanism to extend the lifting forks forward, allowing it to reach into racking with either a double or a single reach configuration.
Reach trucks are offered in capacity ranges from 2,200 lbs. to 5,500 lbs. with reach capabilities as high as 511"!
If your business handles a large number of SKUs with a smaller quantity of each, order pickers are the forklifts designed for the job. These trucks are often guided by rail or wire and can operate in aisles as small as 5 feet or less.
This type of "picker" truck elevates the operator up to the rack, either with or without a load. Once there, the operator commonly picks and adds to the load positioned on the forks. Without the need to pull pallets to the floor or make multiple trips to one area of a warehouse, productivity levels are boosted.
Order Pickers are available in various models for various uses:
Small Parts Order Pickers, with 474 lbs. capacity and a lifting height of 174" are perfect for light maintenance or picking tasks without a pallet.
Low-Level Order Pickers have a capacity of 2,200 lbs. with a lifting height of 118". These trucks work well when picking from first to third levels.
High-Level Order Pickers are built for peak performance at the highest levels with lift capacities of 3,000 bs. and lifting heights up to 490".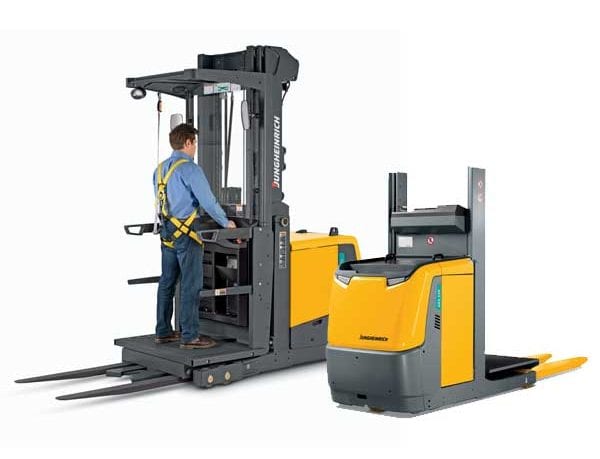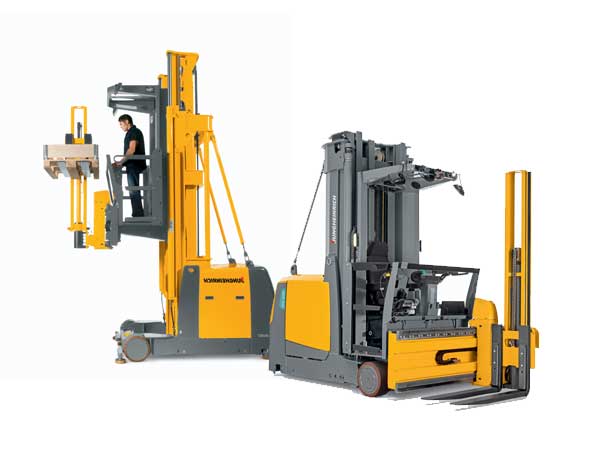 A turret truck is specifically designed to work in very narrow aisles, branding them with the widely used moniker, VNA.
These advanced pieces of equipment are counterbalanced trucks with articulating carriages that enable the forks to rotate 180° within the storage aisle. When storage density balanced with access to every pallet position is the prime objective, turret trucks achieve the goal by storing and retrieving in aisles as tight as 60", depending on the load length.
Turret trucks are widely used in conjunction with a warehouse navigation system. These systems optimize truck movement and provide automatic vertical and horizontal truck positioning, allowing the operator to concentrate on moving pallets in and out of racking. Tied with a Warehouse Management System (WMS), turret trucks can adjust inventory levels in real time.
Available from man-down models used for handling full pallets, with capacities up to 2,750 lbs. and lifting heights of 275", to man-up high-rack picking models with capacities up to 3,500 lbs. and lifting heights of 570".
This popular series of equipment has come to be known by many names: electric pallet jacks, power jacks, pallet movers, walkies, walkie-riders and end-riders, to name a few. They are designed for loading and unloading trailers and transporting loads over short distances.
Walkie Pallet Trucks are ideal for high-volume distribution, ramp loading and transporting heavy loads. Available in both 4,500 and 6,000 lbs. capacity with 4.8" maximum fork heights.
Powered Pallet Rider Trucks combine the maneuverability and comfort of a stand-on forklift in the compact design of a walkie end-rider. They are available in a 5,500 lbs. capacity with a 4.8" maximum fork height.
Walkie End-Riders are necessities for transport, low-level order picking and dock operations. They come in 6,000 and 8,000 lbs. capacity with a lifting height of 8.7".
Center Control Riders maximize the cost and speed of low-level order picking with both 6,000 and 8,000 lbs. capacities.
Sit-On Low-Lift Pallet Trucks provide horizontal transport over medium to long distances. Their excellent visibility and comfortable working environment are great advantages, especially where frequent changes of direction are required. They're available in 4,400 lbs. capacity with lift heights of 84".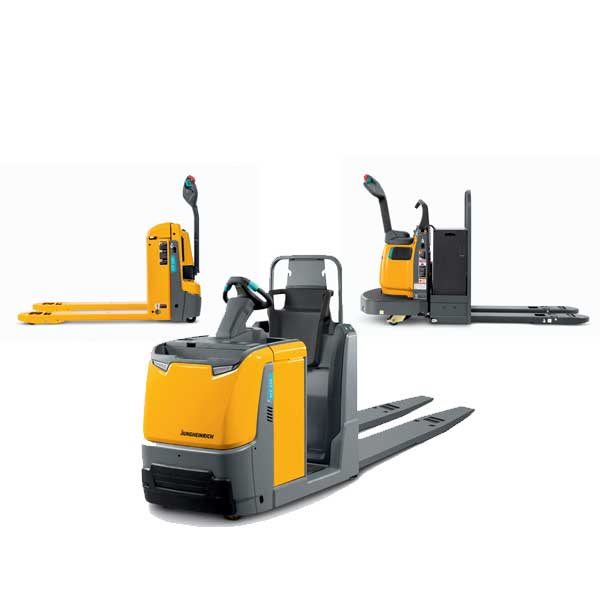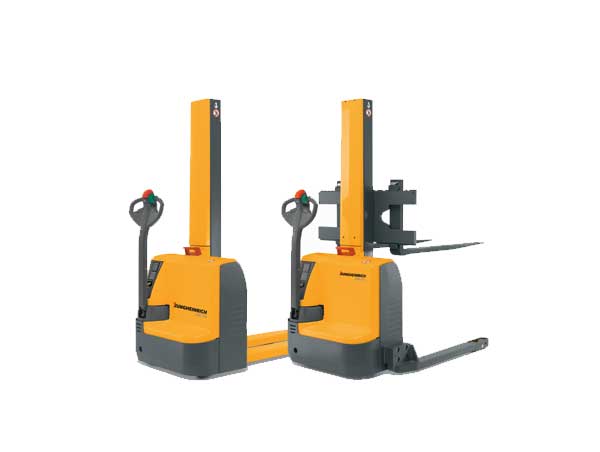 Walkie Stackers combine the ease and maneuverability of a walkie pallet truck with the capability to lift as high as 19 feet. They're designed to work in a tighter aisle than a sit-down truck with a less expensive price tag than a reach truck.
This series of trucks is available in various configurations that offer a variety of uses for practically any application. Choices range from Walkie Fork-Over Stackers with 2,200 lbs. capacity and up to 78" lifting heights to Walkie Straddle Stackers, Straddle Fork-Over Stackers, Fork-Over Stand-On Stackers, Counterbalanced Walkie Stackers, all the way to Automated Stackers with 3,300 lbs. capacity and 236" lifting heights.
IC CUSHION TIRE FORKLIFTS
Internal combustion sit-down cushion tire forklifts have historically been the backbone of many industrial manufacturing processes, shipping companies and construction firms. Although electric forklifts are leading the market in purchases, IC trucks are still the preference for many warehouses and short-term rental users.
With their lower up-front cost, lifting capacities up to 15,500 lbs. and ability to be refueled on the fly, IC cushion tire trucks provide enhanced performance in the toughest conditions while meeting the fuel emissions standards of the EPA.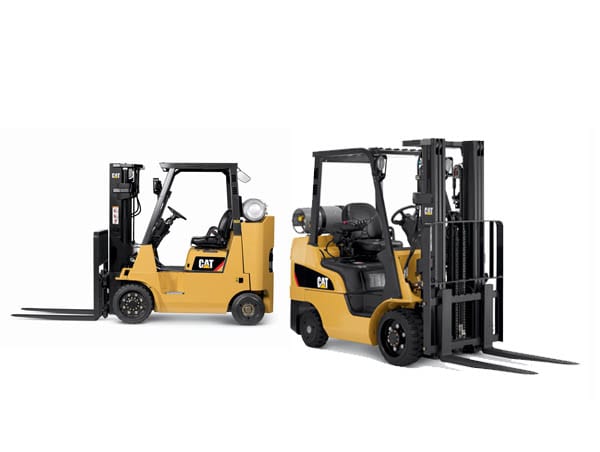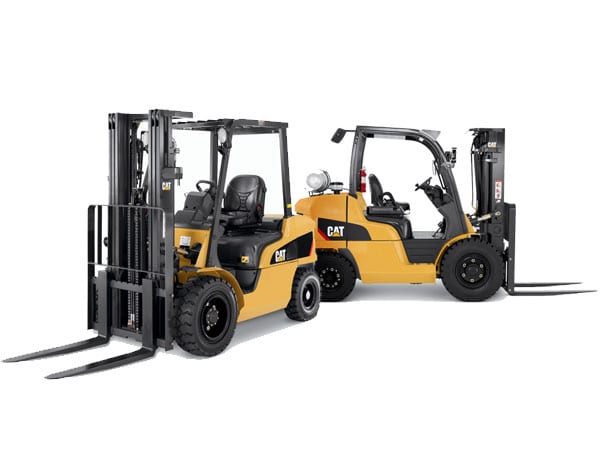 Designed for outdoor use, internal combustion sit-down pneumatic tire trucks are the only forklifts capable of working in extreme environments. These lift trucks run on a variety of fuels, the most common of which are diesel fuel and liquid propane gas (LPG).
IC Pneumatic lift trucks are built to be rugged with heavy-duty tires and robust capacities up to 36,000 lbs. Available with heated cabs, these sturdy trucks are trusted for use in lumber and recycling yards, indoor/outdoor warehouses and wood/pallet manufacturing.
AUTOMATED GUIDED VEHICLES
Automated guided vehicles (AGVs) are material handling systems or load carriers that travel autonomously throughout a warehouse, distribution center, or manufacturing facility, without an onboard operator or driver.
These un-manned vehicles follow a route that has been set out or programmed in advance. They are guided using one of two possible systems: wire-guided systems or laser guided systems. AGVs also facilitate a smooth connection to any host system, such as your preferred Warehouse Management System (WMS) or ERP platform, allowing for an easier and seamless integration into your existing workflow.
AGVs are used for tasks that would typically be handled by forklifts, conveyor systems or manual carts, moving large volumes of material in a repetitive manner. They're often used for transporting raw materials from receiving to the warehouse or to deliver materials directly to production lines without human intervention.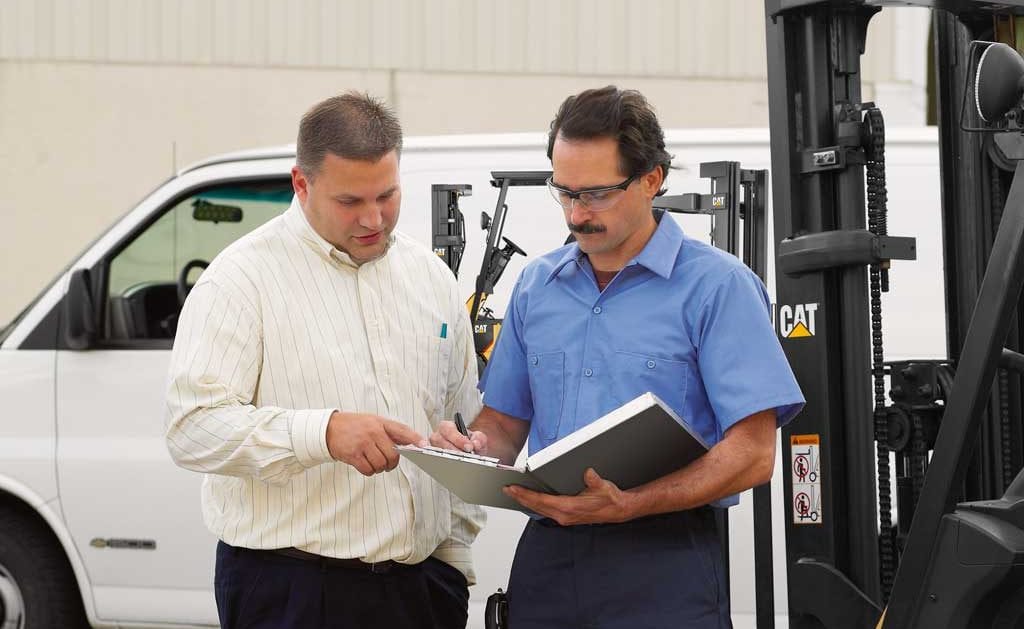 ANSWERING THE PERTINENT QUESTIONS
With all the information and options to choose from, you may still not know which truck is right for your operation. To get started, arm yourself with the answers to the following questions, and then call a Tri-Lift NJ materials handling expert.
How will you be using the forklift?
What is the environment it will be used in?
Will you need to stack and how high?
What is the maximum weight and size of your loads?
How many hours a day will you be operating the forklift?