ETG SERIES 3 WHEEL
FORKLIFT
The ETG 214-318 series is designed to maximize performance and operator comfort when you need to load and unload trailers, shuttle goods or move loads in a confined space.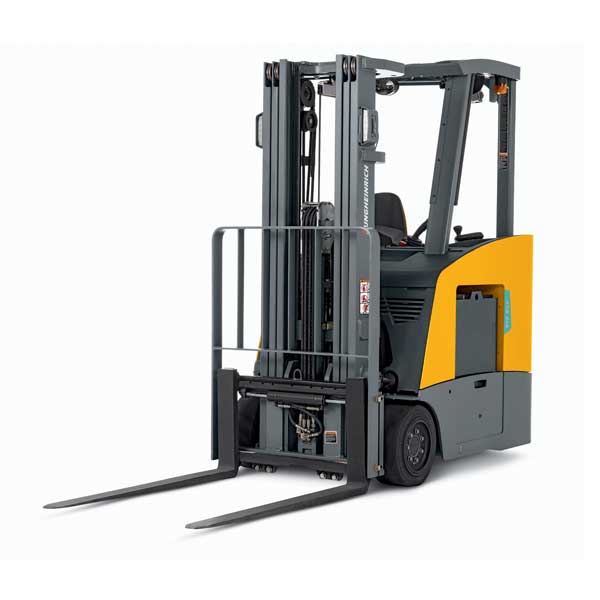 PRODUCTIVITY
Powerful 3-Phase AC Technology - Optimized productivity makes this an incredibly energy-efficient electric forklift, allowing two shifts with one battery charge in many applications.Display Panel – The high definition and high contrast full color display includes information on service icons, directional indicators and performance modes.Selective Performance Modes – Five-level pre-programmed performance mode selector lets you adapt to various applications.
REQUEST MORE INFO
DURABILITY
Sealed Components – Electric motors protected to IP54, electro-magnetic brakes and short cables help protect components from dust and moisture, helping to minimize forklift downtime and extend service intervals.
REQUEST MORE INFO
SERVICEABILITY
Performance Customization – Exclusive and comprehensive servicing software allows the factory-trained technician the ability to perfectly match performance parameters to your application.
REQUEST MORE INFO
AWARENESS
Curve Control – Curve Control automatically reduces speed while turning corners, helping to ensure control over loads.Visibility – Optimum visibility in all directions due to mast, overhead guard and counterweight design.
REQUEST MORE INFO
OPERATOR COMFORT
Electric Power Steering – Fully AC power steering provides significantly lower steering effort than a conventional steering system. The lift truck's design allows for ample leg room and can be adjusted in two planes – height and proximity – for optimum comfort and productivity.SOLO-/MULTI-PILOT Controls – These options offer precise control and help improve productivity in your operation. A travel directional switch and horn are conveniently integrated into the fingertip module.Full Suspension Seat – The three-way adjustable full-suspension seat and fully-floating cab design help reduce shock and vibration.
REQUEST MORE INFO
MORE EFFICIENCY, LESS MAINTENANCE
The Lithium-ion battery package provides the highest performing battery solution.High performance batteries that are synchronized with the lift truck and charger for optimal energy efficiency. No maintenance requirements and a longer service life mean each truck offers more daily use, increased throughput and reliable 24/7 performance. No more battery change outs, watering and degassing areas. Maximize truck productivity through opportunity charging that can be interrupted anytime. 5-year warranty included.
REQUEST MORE INFO
ETG Series Specifications
| Model | Basic Capacity (lbs) | Maximum Fork Height ² | Voltage (or Fuel Type) | Length To Fork Face | Chassis Width (in) | Chassis Height (in) ¹ | Gross Weight (lbs) ¹ |
| --- | --- | --- | --- | --- | --- | --- | --- |
| ETG 214 | 3,000 | 276 | 36 | 63 | 41 | 88 | 8,424 |
| ETG 216 | 3,400 | 276 | 36 | 65 | 41 | 88 | 8,424 |
| ETG 318 | 4,000 | 276 | 36 | 70 | 41 | 88 | 9,244 |
There are a multitude of different factors to consider when purchasing equipment for a specific application. Our professional sales team can make the process a lot easier. 
Ensure you get the most from your investment – contact us today.