AMERICAN SPRAY
TECH CASE STUDY
American Spray Tech specializes in contract chemical aerosol manufacturing. 
American Spray Tech specializes in contract chemical aerosol manufacturing. Strategically situated in the heart of NJ's pharma and manufacturing corridor, AST has been well positioned to meet the demands of a wide variety of industries across major markets. Their rapid expansion and manufacturing expertise has led to securing big name contracts throughout New York, the East Coast and even clientele that extends throughout the United States and Europe.
The original 25,000 square foot plant was established in 1982, which was acquired by American Spraytech in 2003. Since then, they have expanded to a campus of 6 production facilities which comprises over 200,000 square feet of manufacturing space, serving some of the most well-recognized brands in the Personal Care and OTC Medicine markets.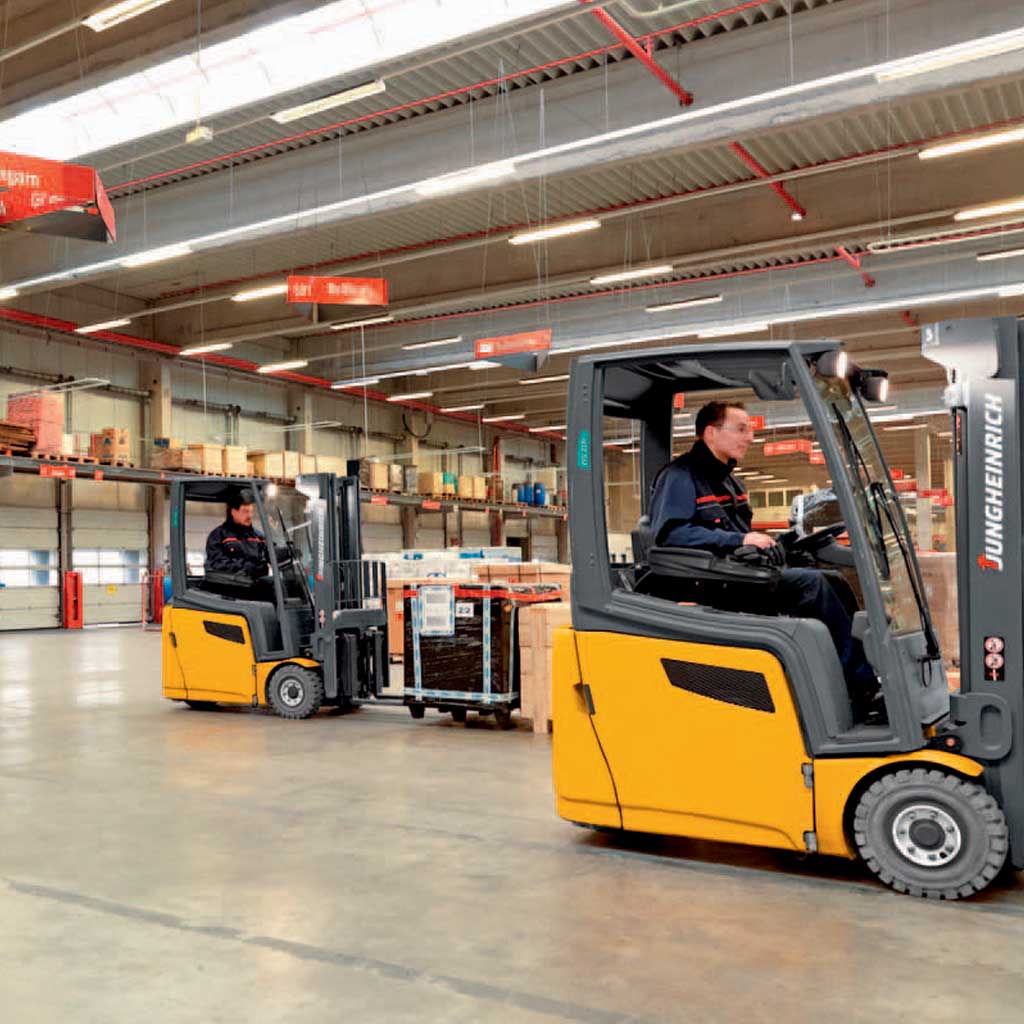 AST's sustained growth was, and still is, reflected in their daily operations – running up to two shifts per day, sometimes 3 to fulfill large customer contracts. At the core of their production was a combined fleet of electric forklifts, end-rider pallet jacks, and narrow aisle reach trucks. The backbone of their logistics, AST's material handling equipment was what ensured the steady stream of manufacturing materials in and finished product out.
As a result of AST's successes and continual growth, operational bottlenecks began to surface and steadily amplify. The workhorses that AST had relied on, an aging fleet of Toyota and Raymond forklifts, struggled to handle the demands of a multiple shift, chemical manufacturing application. The main obstacle to sustainable production growth for AST was equipment reliability. When equipment was down, production was effectively halted. Without their forklifts, AST had no way to move pallets from one production stage to the next. Without these key machines, AST's entire facility's production line was crippled.
Further compounding equipment failure, AST lacked a responsive and knowledgeable partner capable of solving their unique materials handling challenges. It was common for AST to wait days or even weeks for their service provider to respond, properly diagnose and resolve issues. As time went on, a painful pattern of misdiagnosis and incorrectly specced replacement components began to emerge. Leadership at AST realized they had not only outgrown their forklifts, but the provider responsible for keeping them running smoothly as well.
In late 2021, AST turned to Tri-Lift NJ to maintain a portion of their fleet. Initially, leadership at AST was understandably cautious about committing to another provider without proof they could provide the level of service they needed. So, they agreed to a comprehensive Planned Maintenance service which only covered a portion of their equipment in just 1 of their 6 facilities. 
In stark contrast to previous providers, Tri-Lift NJ's service department was able to make American Spraytech a priority. Although not a Toyota or Raymond dealership, Tri-Lift NJ was able to expertly service and provide parts for all the equipment in AST's fleet. By being on-site the same day, after-hours and on weekends when needed, Tri-Lift NJ seamlessly kept this competitive fleet of equipment running just the same as the CAT and Jungheinrich trucks they sell and support. After only a month, Tri-Lift NJ was servicing the entire 35 truck fleet. 
In addition to providing American Spraytech the professional and reliable service their operation demanded, Tri-Lift NJ's Rental department was always just a phone call away. Whether it was to temporarily replace a piece of legacy equipment that was being repaired, or for when American Spraytech's production ramped up for seasonal demand, Tri-Lift was there for AST with reliable, late model forklifts at a moment's notice.
Currently, Tri-Lift is still maintaining AST's fleet reliably. And within the next few months, AST will be expecting a new delivery of Jungheinrich Forklifts – which will still be reliably serviced by Tri-Lift NJ.
VIEW MORE SUCCESS STORIES
DIXON VALVE & COUPLING
Dixon Valve ships at a moment's notice. See how they achieve 15% more picks per hour for greater productivity with Jungheinrich order pickers.
RICHARDSON MILLING
This leading global oat miller relies on Jungheinrich turret trucks and warehouse navigation to meet their business' heavy demands.
LEANCOR SUPPLY CHAIN
Advancing the world's supply chains is LeanCor's mission, and they're working toward that goal with the help of Jungheinrich reach trucks.