A global leader in the design, manufacturing and installation of factory coated storage tank systems, Columbian TecTank uses the Cat® P8000-P12000 / PD8000-PD12000 series (now called the GP/DP40N-GP/DP555N series) of internal combustion pneumatic tire lift trucks to move carbon and stainless steel products throughout their 250,000-square-foot facility in Parsons, Kansas.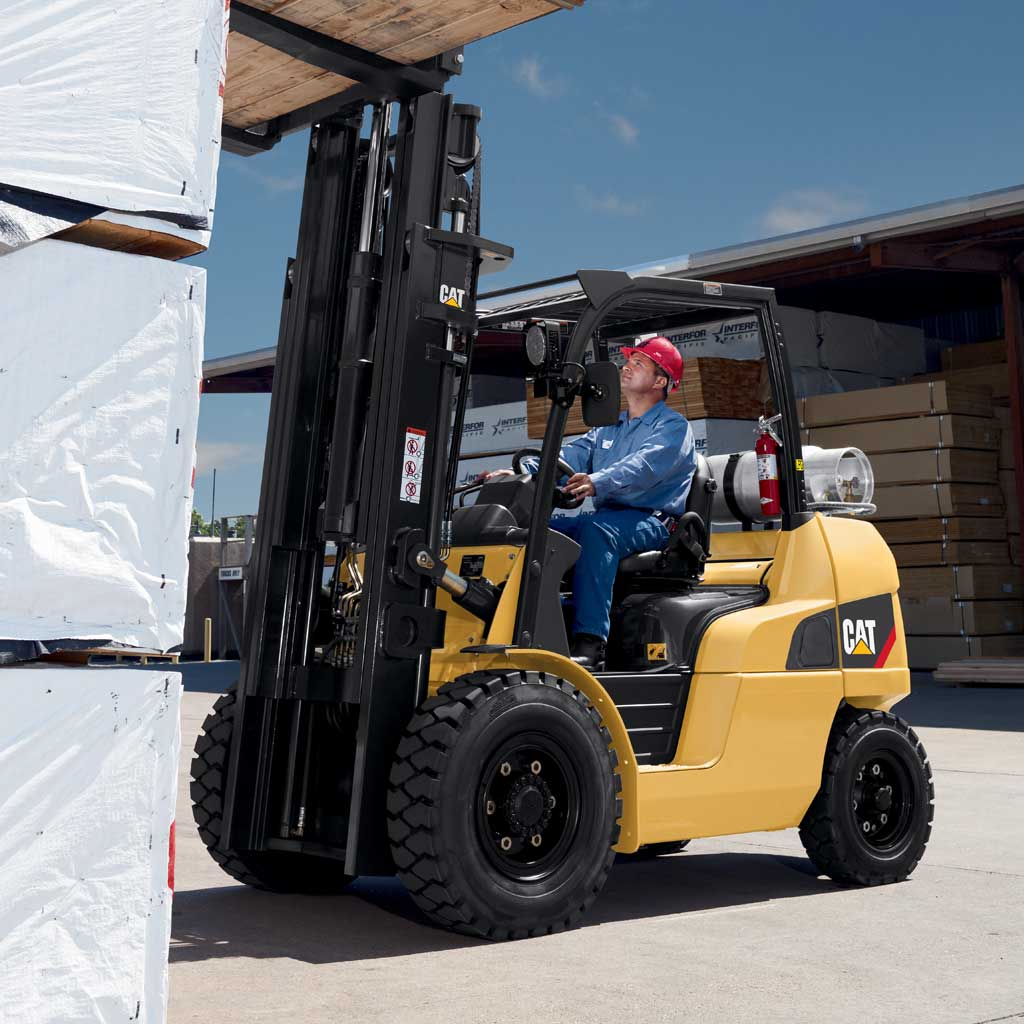 BUILT FOR HEAVY DUTY APPLICATIONS
When first evaluating forklifts for their operation, Columbian TecTank turned to their local Cat lift truck dealer, Wiese USA, for assistance.

"We invited Wiese to come in and do a utilization study, and learned early on that we had the wrong equipment and outdated equipment," says Jim Kneedler, purchasing manager at Columbian TecTank. "Our business had basically outgrown our fleet. We realized early on in this program that it was going to be a cost-savings and safety enhancement for us, and would project a better corporate image – so it's been a win-win."

Based on their utilization study, their local Cat lift truck dealer recommended Cat's mid-size IC pneumatic tire forklifts for their application. The Cat forklifts are built for heavy-duty applications and are equipped with standard high-performance features such as an EPA-compliant purePOWER® engine, two-speed forward and one-speed reverse transmission and an LED/LCD display panel, which features an operator passcode system and maintenance interval reminders.

"The new Cat lift trucks will allow us to provide quality products to our customers and a more efficient workplace for our employees," says Steve Allen, director of operations, Columbian TecTank.
VIEW MORE SUCCESS STORIES
MYSTIC SEAPORT
Mystic Seaport is known as the museum of America and the sea, they are carrying on the American tradition with IC forklifts from Cat Lift Trucks.
CARTER LUMBER
For more than 50+ years, Cat lift trucks have kept this top building materials retailer running strong, and the newest line of Cat IC lift trucks are no different.
DIRECT SCAFFOLDING
DSS is committed to quality and safety in how they move product. Learn why their partnership with Cat Lift Trucks is a big part of that commitment.