Daikin is the world's No. 1 air conditioning company offering residential, commercial and applied industrial solutions to over 140 countries around the world. Their manufacturing and distribution plant near Houston, TX is the largest HVAC facility in the United States, spanning an impressive 4.2 million square feet. Nearly every Daikin or Goodman HVAC product shipped in the U.S. passes through this facility.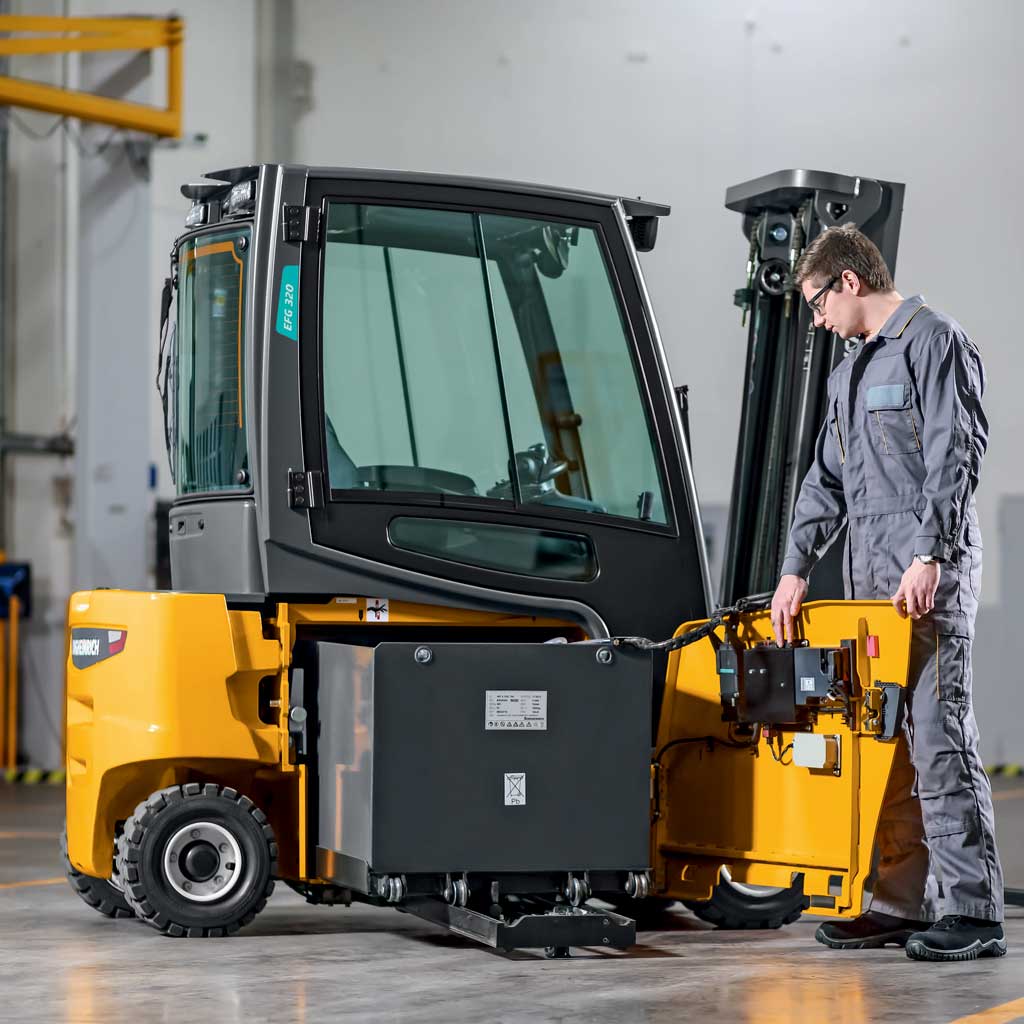 When building their state-of-the-art campus, Daikin management specifically wanted all new lift truck purchases to be electric forklifts. At Daikin's groundbreaking ceremony, Mr. Takeshi Ebisu, president and CEO of Daikin North America stated, "The operational efficiencies we achieve will be reflected in the superb quality of our high-efficiency, energy-saving heating and cooling systems."
All of Daikin's manufacturing facilities previously used internal combustion forklifts. With its new facility, Daikin was first considering three-wheel electric counterbalanced forklift options from several different forklift manufacturers, including Jungheinrich lift trucks. 
As part of the decision-making process, Daikin evaluated and demonstrated several different competitors' products in addition to the Jungheinrich EFG 220 series – a 2,500 – 4,000 lb., 3-wheel electric counterbalanced forklift. Overwhelmingly, Daikin's management team and forklift operators preferred the Jungheinrich lift trucks due to the truck's ability to run 16 hours on one battery charge, its leading comfort, ergonomics and ability to move smoothly across their large facility.
Today, Daikin now operates more than 300 Jungheinrich lift trucks in its Houston facility, including a mix of man-up turret trucks, three-wheel electric counterbalance lift trucks, tow tractors, four-wheel electric pneumatic forklifts, walkie pallet trucks, powered pallet trucks, high-level order pickers, stand-up end controls, and pantograph reach trucks.
When Daikin operators start their shift each day, they have the choice between a Jungheinrich EFG electric forklift and a propane-powered IC pneumatic forklift. Both management and operators said the Jungheinrich lift trucks are always the first to be chosen. "When I walk in at the beginning of the day – if I have a choice between a propane (forklift) and a Jungheinrich – I'll choose the Jungheinrich. There's no comparison," says Ruiz.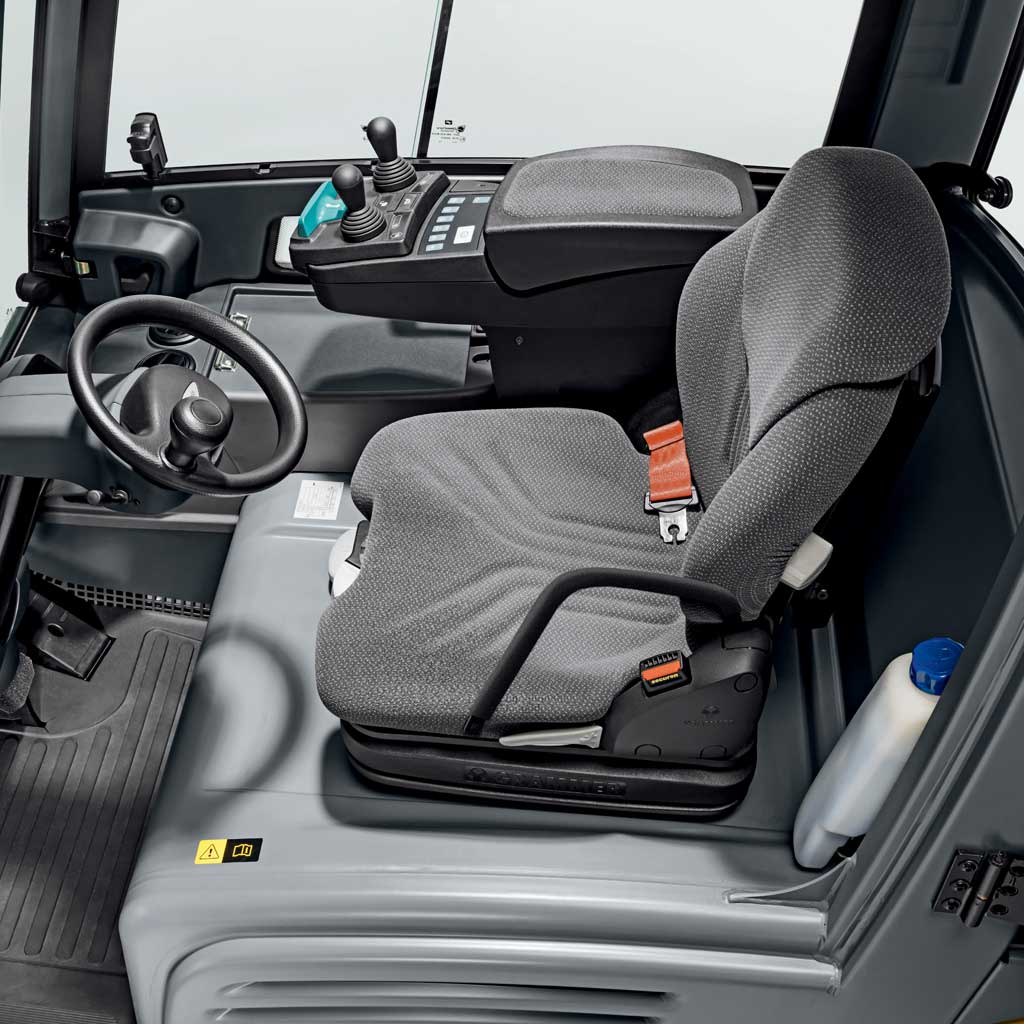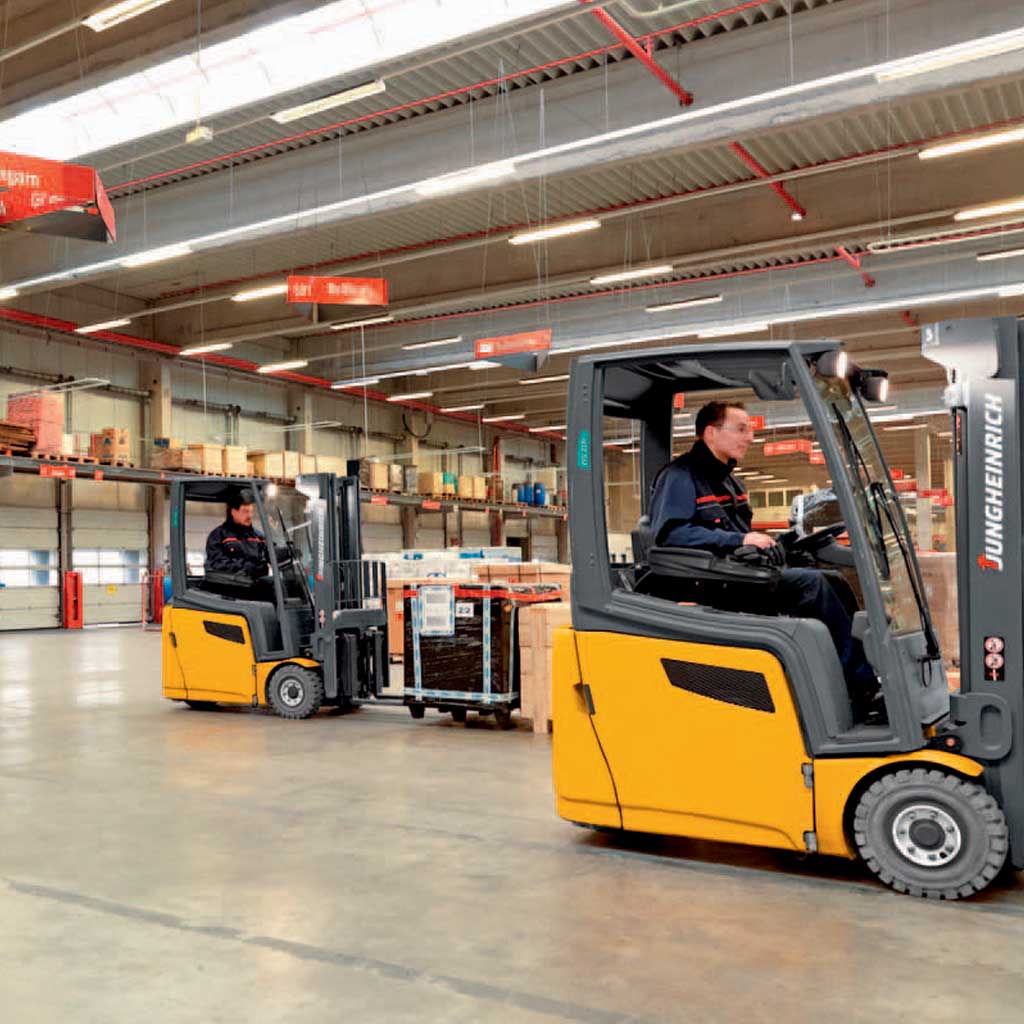 RUNNING 2 SHIFTS ON 1 CHARGE
Management was also impressed with the long run times and travel throughout the facility.

"Getting two shifts off of one battery charge in a facility this size is pretty impressive." Wright says. "The way the (Jungheinrich 3-wheel electric forklift) travels through the warehouse – it's very smooth. The shifting of the mast – the transition when they're lifting or down-stacking product – (the operators) preferred it much more than some of the others we tested."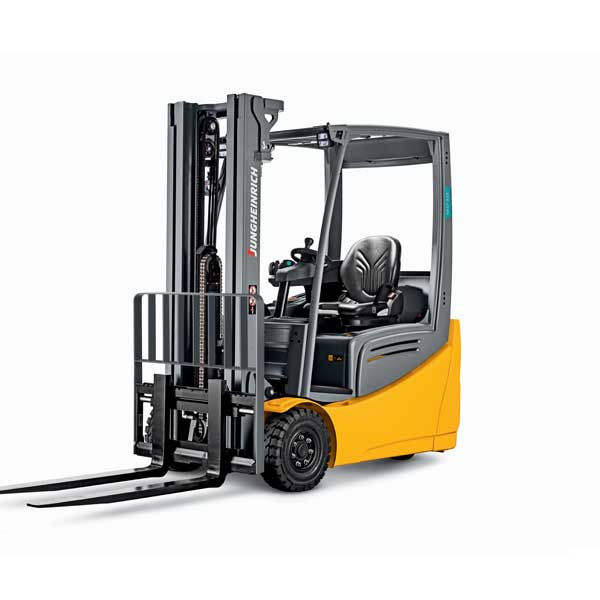 PRODUCTIVITY
Powerful 3-Phase AC Technology - Optimized productivity makes this an incredibly energy-efficient electric forklift, allowing two shifts with one battery charge in many applications.Display Panel – The high definition and high contrast full color display includes information on service icons, directional indicators and performance modes.Selective Performance Modes – Five-level pre-programmed performance mode selector lets you adapt to various applications.
REQUEST MORE INFO
DURABILITY
Sealed Components – Electric motors protected to IP54, electro-magnetic brakes and short cables help protect components from dust and moisture, helping to minimize forklift downtime and extend service intervals.
REQUEST MORE INFO
SERVICEABILITY
Performance Customization – Exclusive and comprehensive servicing software allows the factory-trained technician the ability to perfectly match performance parameters to your application.
REQUEST MORE INFO
AWARENESS
Curve Control – Curve Control automatically reduces speed while turning corners, helping to ensure control over loads.Visibility – Optimum visibility in all directions due to mast, overhead guard and counterweight design.
REQUEST MORE INFO
OPERATOR COMFORT
Electric Power Steering – Fully AC power steering provides significantly lower steering effort than a conventional steering system. The lift truck's design allows for ample leg room and can be adjusted in two planes – height and proximity – for optimum comfort and productivity.SOLO-/MULTI-PILOT Controls – These options offer precise control and help improve productivity in your operation. A travel directional switch and horn are conveniently integrated into the fingertip module.Full Suspension Seat – The three-way adjustable full-suspension seat and fully-floating cab design help reduce shock and vibration.
REQUEST MORE INFO
MORE EFFICIENCY, LESS MAINTENANCE
The Lithium-ion battery package provides the highest performing battery solution.High performance batteries that are synchronized with the lift truck and charger for optimal energy efficiency. No maintenance requirements and a longer service life mean each truck offers more daily use, increased throughput and reliable 24/7 performance. No more battery change outs, watering and degassing areas. Maximize truck productivity through opportunity charging that can be interrupted anytime. 5-year warranty included.
REQUEST MORE INFO
VIEW MORE SUCCESS STORIES
DIXON VALVE & COUPLING
Dixon Valve ships at a moment's notice. See how they achieve 15% more picks per hour for greater productivity with Jungheinrich order pickers.
RICHARDSON MILLING
This leading global oat miller relies on Jungheinrich turret trucks and warehouse navigation to meet their business' heavy demands.
LEANCOR SUPPLY CHAIN
Advancing the world's supply chains is LeanCor's mission, and they're working toward that goal with the help of Jungheinrich reach trucks.