Since 1942, Jasper Engines has been the largest remanufacturer of gas and diesel engines to transmissions in the United States. Their processes and procedures are designed to produce a quality component that will exceed the expectations of their customers. Jasper Engines relies on a fleet of internal combustion forklifts to keep their business moving non-stop.
Uptime and reliability are key for their business, with their forklifts being used to move everything from engines and transmissions to a wide-range of other heavy products.

"We have to have a very specific lift to be able to carry all that product," said Jasper's Group Leader Ben Melton.

For years, Jasper Engines relied on the same used internal combustion forklifts to move their products. When the time came to replace their existing fleet, they evaluated and tested four different brands of lift trucks, including the Jungheinrich EFG 2 Series.

After test driving the Jungheinrich, "there wasn't any comparison," said Connie Holzbog, Jasper Engine's forklift operator. "It took me about 10 minutes. I was a pro, and I knew then that I don't ever want to see the gas one again. This is my lift," said Mark Sullivan, forklift operator.
After switching to the Jungheinrich EFG 2 Series, the improvements in Jasper's day-to-day operations were immediately evident. From ease of operation to productivity, reliability and runtime –everything was an improvement. Ben Melton says, "We've seen a lot better runtime out of these trucks and a lot less downtime. That's been a huge benefit to us."

Jasper Engine's warehouse is large, and they put a lot of miles on their lift trucks every day. The energy efficient design of the Jungheinrich EFG 2 Series has kept Jasper's business moving. Mark Sullivan says, "I've actually run mine two days straight on one charge and still had plenty of charge left in it."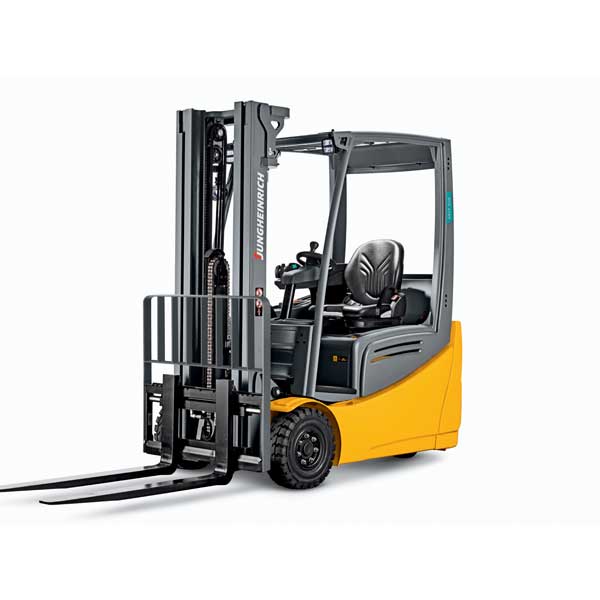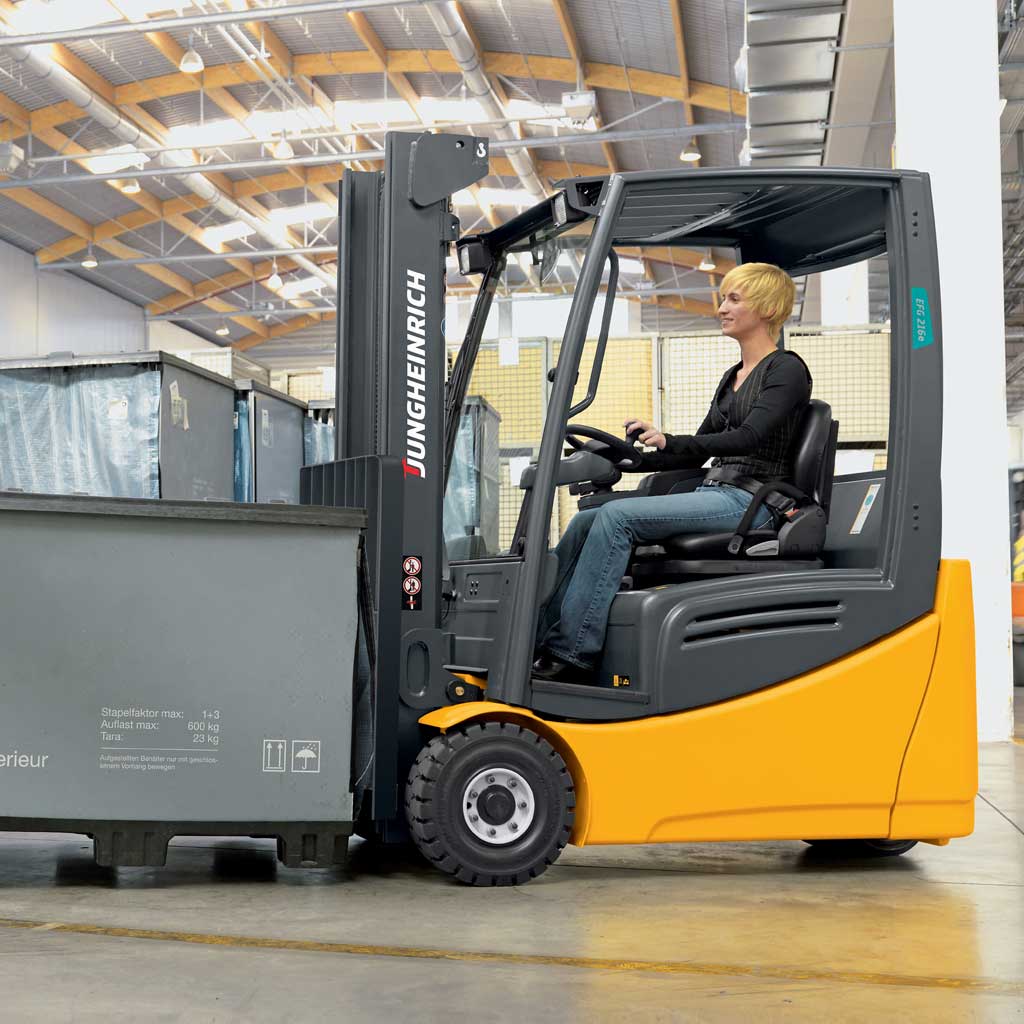 The biggest benefit Jasper Engines has seen with the Jungheinrich EFG 2 Series is the comfort of the operator. With the floating cab and the full-suspension seat, the forklift operator is cushioned from vibrations and bumps for a smoother operation.

It's "like riding on air," said Mike Sullivan. "It just absorbs everything."

Connie's favorite feature is actually the fingertip controls, a big improvement in ergonomics. All of the forklift's controls are "right there at your fingertips". Not having to lift your arm and switch from lever to lever means less wear and tear on your shoulders and elbows.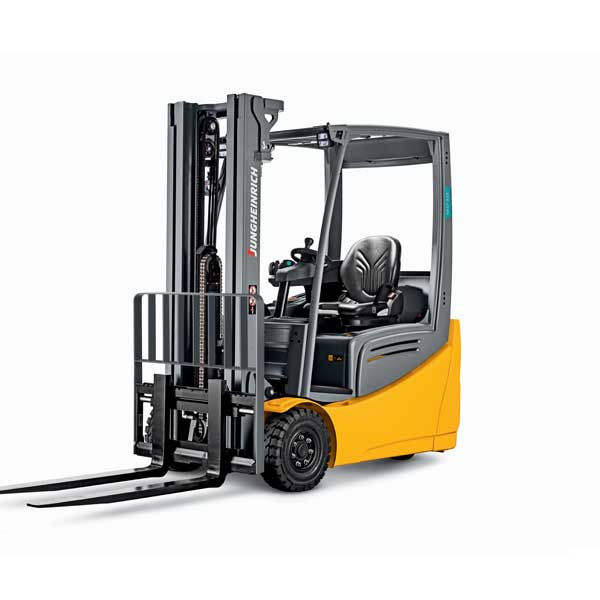 PRODUCTIVITY
Powerful 3-Phase AC Technology - Optimized productivity makes this an incredibly energy-efficient electric forklift, allowing two shifts with one battery charge in many applications.Display Panel – The high definition and high contrast full color display includes information on service icons, directional indicators and performance modes.Selective Performance Modes – Five-level pre-programmed performance mode selector lets you adapt to various applications.
REQUEST MORE INFO
DURABILITY
Sealed Components – Electric motors protected to IP54, electro-magnetic brakes and short cables help protect components from dust and moisture, helping to minimize forklift downtime and extend service intervals.
REQUEST MORE INFO
SERVICEABILITY
Performance Customization – Exclusive and comprehensive servicing software allows the factory-trained technician the ability to perfectly match performance parameters to your application.
REQUEST MORE INFO
AWARENESS
Curve Control – Curve Control automatically reduces speed while turning corners, helping to ensure control over loads.Visibility – Optimum visibility in all directions due to mast, overhead guard and counterweight design.
REQUEST MORE INFO
OPERATOR COMFORT
Electric Power Steering – Fully AC power steering provides significantly lower steering effort than a conventional steering system. The lift truck's design allows for ample leg room and can be adjusted in two planes – height and proximity – for optimum comfort and productivity.SOLO-/MULTI-PILOT Controls – These options offer precise control and help improve productivity in your operation. A travel directional switch and horn are conveniently integrated into the fingertip module.Full Suspension Seat – The three-way adjustable full-suspension seat and fully-floating cab design help reduce shock and vibration.
REQUEST MORE INFO
MORE EFFICIENCY, LESS MAINTENANCE
The Lithium-ion battery package provides the highest performing battery solution.High performance batteries that are synchronized with the lift truck and charger for optimal energy efficiency. No maintenance requirements and a longer service life mean each truck offers more daily use, increased throughput and reliable 24/7 performance. No more battery change outs, watering and degassing areas. Maximize truck productivity through opportunity charging that can be interrupted anytime. 5-year warranty included.
REQUEST MORE INFO
VIEW MORE SUCCESS STORIES
DIXON VALVE & COUPLING
Dixon Valve ships at a moment's notice. See how they achieve 15% more picks per hour for greater productivity with Jungheinrich order pickers.
RICHARDSON MILLING
This leading global oat miller relies on Jungheinrich turret trucks and warehouse navigation to meet their business' heavy demands.
LEANCOR SUPPLY CHAIN
Advancing the world's supply chains is LeanCor's mission, and they're working toward that goal with the help of Jungheinrich reach trucks.