SURPASSING YOUR
EXPECTATIONS
YOUR COMPLETE SOLUTIONS PROVIDER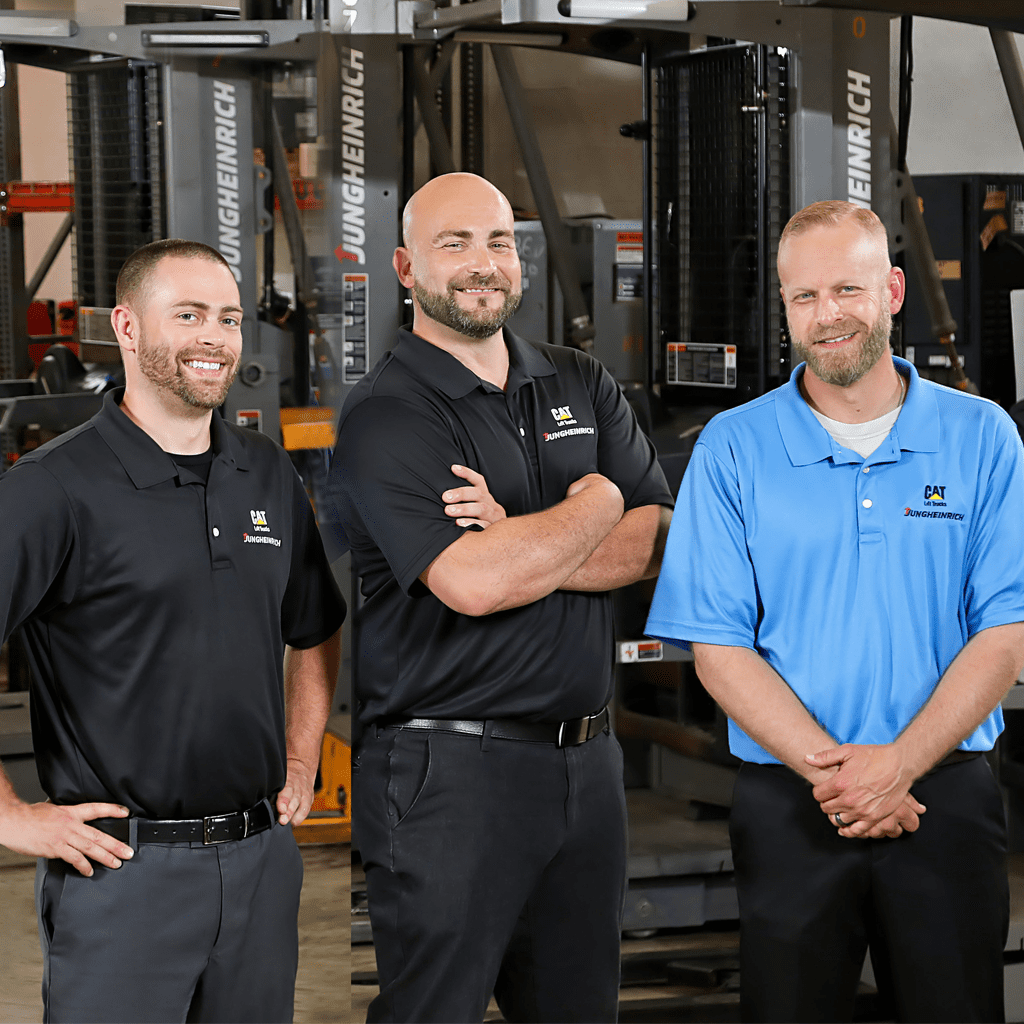 NEXT LEVEL PERFORMANCE & SUPERIOR SUPPORT
Customers turn to Tri-Lift NJ when they need equipment that can improve productivity and increase their bottom line. We are pleased to offer these solutions to help Baigene accomplish that goal.
We already sell the best materials handling equipment in the industry, with the largest dealer network in the country working hand-in-hand to satisfy the needs of every customer, regardless their size.
This gives us the ability to service every customer within our reach in the way they want to be serviced . . . exceptionally!
EJE Electric Pallet
Trucks
The EJE 120/225 electric walkie pallet trucks are specifically suited for loading and unloading trailers as well as transporting loads over short and medium distances.
THE MOST VERSATILE ELECTRIC PALLET JACK IN THE FIELD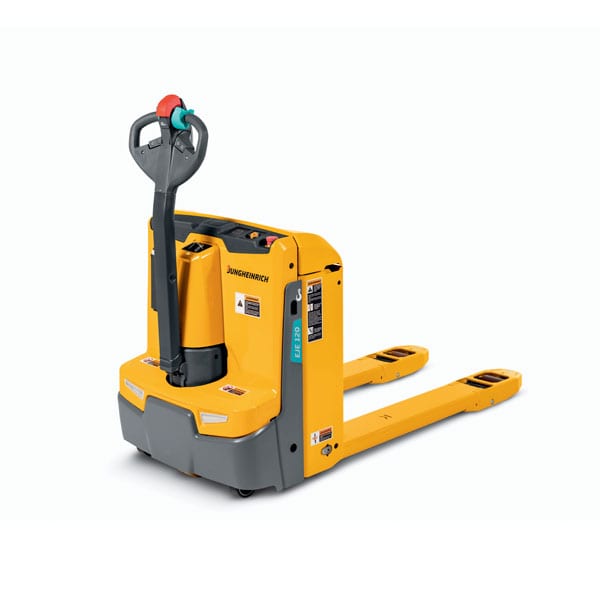 PRODUCTIVITY
ENERGY EFFICIENCY
AWARENESS
ERGONOMICS
TOTAL COST OF OWNERSHIP
PRODUCTIVITY
The Jungheinrich® 3-phase AC motor and high-output AC controller allow these walkie pallet trucks to deliver quick acceleration and smooth directional changes.
Superior stability of both truck and load with optional ProTracLink stability casters.
Easy operation with the handle in the vertical position using the Crawl Speed button simplifies movement inside trailers and in confined spaces.
ENERGY EFFICIENCY
AWARENESS
ERGONOMICS
TOTAL COST OF OWNERSHIP
MID VALLEY FOODS
Tripling its operational capacity required Mid Valley Foods to find the right walkies to move the business forward - and Jungheinrich had the solution.
GAMA
This distributor requires forklifts that are easy to maneuver with long run times. The EJE 120 walkie pallet jack from Jungheinrich fits the bill.
ETR Pantographic
Reach Truck
The ETR pantograph reach truck forklift series runs two shifts on one battery charge, guaranteed, allowing your operators to maximize their workday.
LEANCOR SUPPLY CHAIN
Advancing the world's supply chains is LeanCor's mission, and they're working toward that goal with the help of Jungheinrich reach trucks.
EFG Series 3
Wheel Forklift
The EFG 213-220 three-wheel series combines the latest in operator ergonomics, advanced AC control systems and customized performance.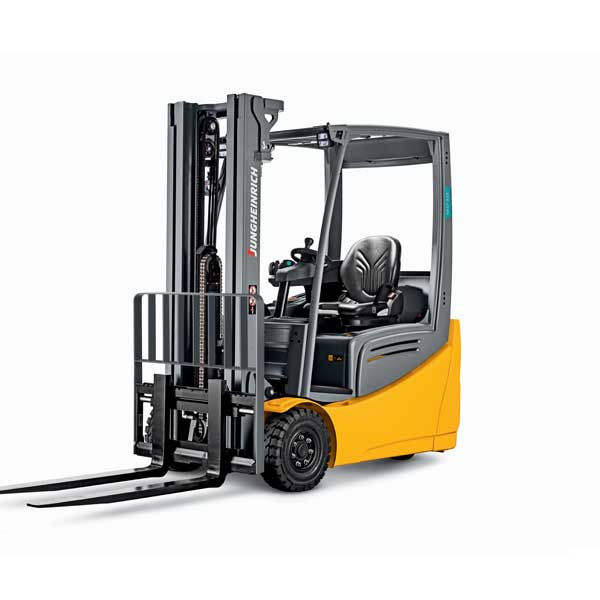 PRODUCTIVITY
Powerful 3-Phase AC Technology - Optimized productivity makes this an incredibly energy-efficient electric forklift, allowing two shifts with one battery charge in many applications.Display Panel – The high definition and high contrast full color display includes information on service icons, directional indicators and performance modes.Selective Performance Modes – Five-level pre-programmed performance mode selector lets you adapt to various applications.
DURABILITY
Sealed Components – Electric motors protected to IP54, electro-magnetic brakes and short cables help protect components from dust and moisture, helping to minimize forklift downtime and extend service intervals.
SERVICEABILITY
Performance Customization – Exclusive and comprehensive servicing software allows the factory-trained technician the ability to perfectly match performance parameters to your application.
AWARENESS
Curve Control – Curve Control automatically reduces speed while turning corners, helping to ensure control over loads.Visibility – Optimum visibility in all directions due to mast, overhead guard and counterweight design.
OPERATOR COMFORT
Electric Power Steering – Fully AC power steering provides significantly lower steering effort than a conventional steering system. The lift truck's design allows for ample leg room and can be adjusted in two planes – height and proximity – for optimum comfort and productivity.SOLO-/MULTI-PILOT Controls – These options offer precise control and help improve productivity in your operation. A travel directional switch and horn are conveniently integrated into the fingertip module.Full Suspension Seat – The three-way adjustable full-suspension seat and fully-floating cab design help reduce shock and vibration.
MORE EFFICIENCY, LESS MAINTENANCE
The Lithium-ion battery package provides the highest performing battery solution.High performance batteries that are synchronized with the lift truck and charger for optimal energy efficiency. No maintenance requirements and a longer service life mean each truck offers more daily use, increased throughput and reliable 24/7 performance. No more battery change outs, watering and degassing areas. Maximize truck productivity through opportunity charging that can be interrupted anytime. 5-year warranty included.
DAIKEN INDUSTRIES
This global manufacturer of HVAC systems relies on Jungheinrich's 3-wheel electric counterbalance with 16-hours of guaranteed run time.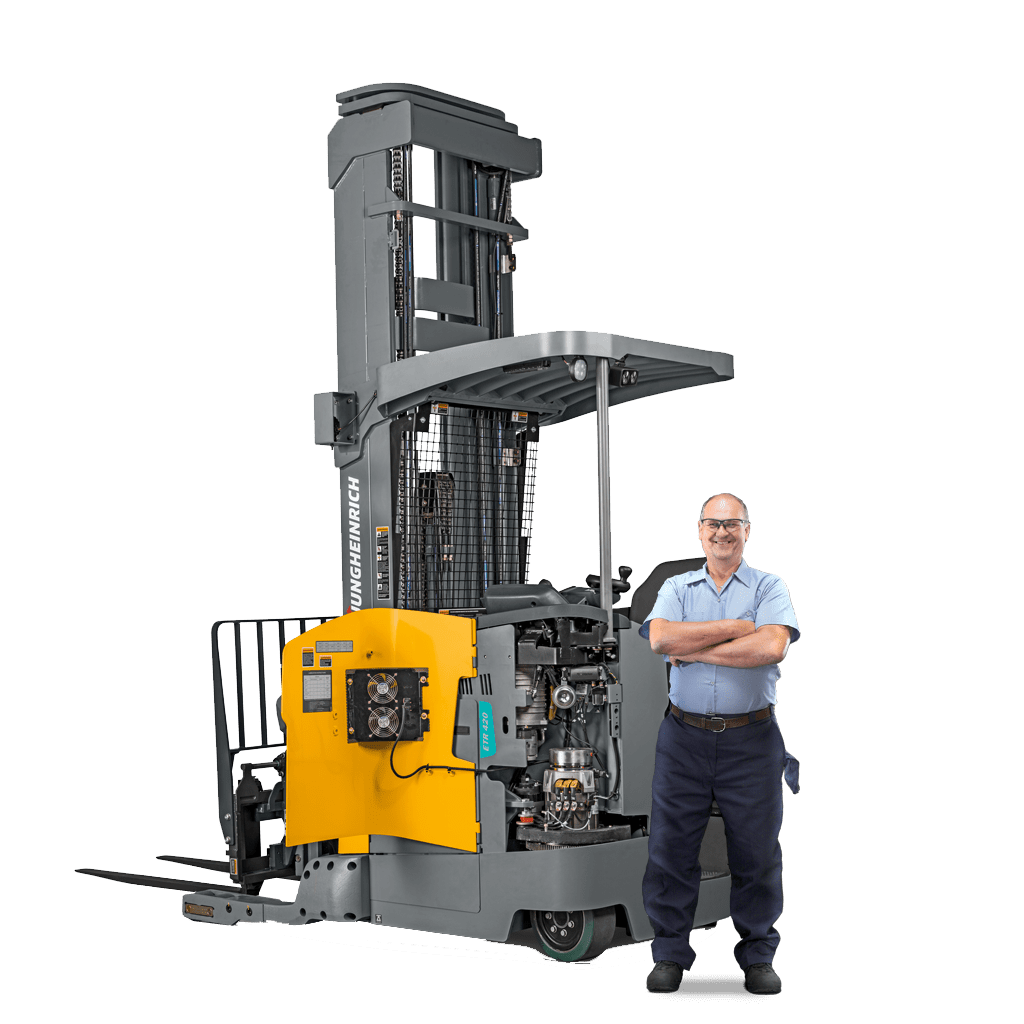 Warranties for extra protection
Customer Success
See how Jungheinrich Warehouse Products have helped customers just like you.
Run 2 Shifts on 1 Charge
Learn more about the leading edge tech inside Jungheinrich Warehouse Products
Contact Us
Contact your materials handling specialist to see what Jungheinrich can do for you.